Source and Execution: Execution
---
Hideki Nakazawa Exhibition "Source and Execution" (now being held)
February 10 (Wed) – March 21 (Mon/Holiday), 2016 at NADiff Gallery, Tokyo
Concurrent Exhibition: Hideki Nakazawa "Method Painting Small Exhibition" at NADiff Window Gallery
Partnership Program of Yebisu International Festival for Arts & Alternative Visions 2016
Thanks to Gallery Cellar and Art Diver
[Exhibition] http://aloalo.co.jp/nakazawa/2016/0223nadiff_e.html (English)
[Works] http://aloalo.co.jp/nakazawa/newmethod/b00/e.html (English)
[Everything] http://aloalo.co.jp/nakazawa/2016/0223a.html (Japanese & English)
PERFORMANCE EVENT
Execution Part
17:00-19:00 on March 6 (Sun), 2016 at NADiff a/p/a/r/t
Performers: Editorial Department of "Mainstream" (Wareware Dan), New-Method (Takahiro Hirama, Shogo Baba, Masaru Kaido), Hideki Nakazawa
Admission: 1,000 yen
[Editorial Department of "Mainstream" (Wareware Dan)]
Editorial Department of "Mainstream" is a lower branch of "Wareware dan," Kyushu Fascist Party led by revolutionist Koichi Toyama. Based in Fukuoka, they have published oppressing art magazine "Mainstream" and its extra issue "L'art pour l'art" since 2011 promoting "Founding Manifesto," "Art for Art's Sake = Closed Ward Manifesto" and others. Members are two persons, Daichi Higashino who was once a researcher of Futurismo then became a fascist, Sakurako Yamamoto who was once a researcher of Dadaism then became a practitioner of Dadaism. Nakazawa invited them to this performance event saying "I will accept any result of asking to you two" and "I do not matter whether the actual performers are you two, Daichi Higashino and Sakurako Yamamoto or not. Your boss Koichi Toyama's appearance may be accepted or fellows captured through your propaganda activity on the streets in Tokyo may come instead." (written by Nakazawa)
[New-Method (Takahiro Hirama, Shogo Baba, Masaru Kaido)]
"New-Method" by New-Methodicists was formed in September 2010, the original members of which were Takahiro Hirama, Shogo Baba and Hideki Nakazawa. In February 2012, Hideki Nakazawa left and Masaru Kaido joined New-Method, which is the present form. Based in Tokyo, they have published 6 manifestos and 31 "Multiposted Works" till now holding exhibitions and events. Nakazawa's 85 works as a whole of series "Source and Execution" were appeared in No. 1 to 16 of the email bulletin "New-Method," which includes guests' contribution and New-Methodicists' works. Sakurako Yamamoto, editor of "Mainstream" analyzed today's "New-Method" as "plain and frank, very effortlessly inhuman, with no shadow of gloom and resentment (seemingly)." Nakazawa invited them to this performance event without saying his anticipation, "they will buy books if they are invited to perform at a bookstore." (written by Nakazawa)
CLOSING TALK
Lecture on His Books by the Author
15:00-17:00 on March 21 (Mon/Holiday), 2016 at NADiff a/p/a/r/t
Speaker: Hideki Nakazawa. Admission: 500 yen. Autograph session will follow after the talk.
Nakazawa's activity of writing which belongs to the category of reflection of his idea of art will be talked focussing his past books including "Art History: Japan 1945-2014," "Texetbook of Modern Art History," "Lives of Western Painters" and others. His new anthology, the publication of which was postponed, will be mentioned as well.
Notice: New book publication was postponed.
The already announced new book publication of Hideki Nakazawa's anthology was postponed and there is no hope for its release during the exhibition period.
Sorry from the artist for the change of already announced information to those who longed the publishment.
Sorry for the multipostings.
Hideki Nakazawa
nakazawa@aloalo.co.jp
http://aloalo.co.jp/nakazawa/
P. S.

[Commemoration of Publishing "From Lamb to Mutton" by Art Diver]
Deviding and Circling of Japanese Art History: Think with Artist Yoichi Umetsu and Hideki Nakazawa
19:00-21:00 on March 11 (Fri), 2016. 2,700 yen. Aoyama Book Center.
http://www.aoyamabc.jp/culture/umetsu-nakazawa/ (Japanese)


[Commemoration of Exhibition "Pixel Out"]
Hideki Nakazawa, Jun Tsuzuki, Kazuki Takakura "Pixel and Digital Painting Till Now"
17:00-18:00 on March 5 (Sat), 2016. Admission free. pixiv Zingaro.
http://pixiv-zingaro.jp/exhibition/pixcelout (Japanese)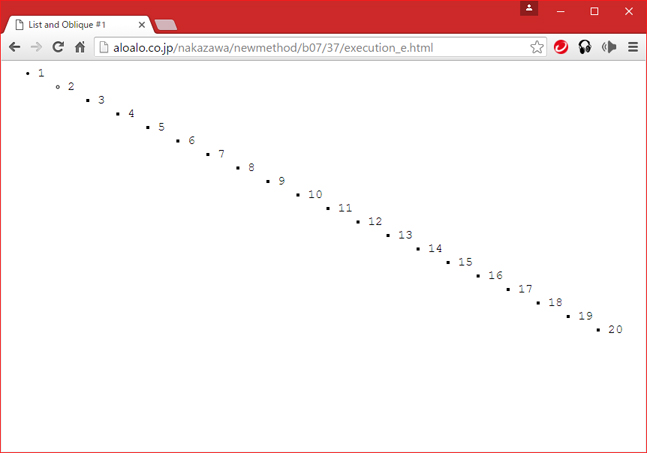 ---
2016-03-03
- Multiposted above email in English to English speakers. This mail is in HTML format, not plain text.
- Multiposted email in Japanese to Japanese speakers. http://aloalo.co.jp/nakazawa/2016/0303aj.html
- cf. Source of above email in English http://aloalo.co.jp/nakazawa/2016/0303ae_source.html
- "Source and Execution Exhibition" http://aloalo.co.jp/nakazawa/2016/0223a.html [Japanese & English]
---