About Clancco
Clandestine Construction Company International (Clancco), a corporation founded in 1968 and based out of New York, is an interdisciplinary project which explores, investigates, and examines the relationship between art and law through architectural-sculptures, performances, writings, interviews, and an internet website/blog, all made available in different material and digital formats.
Clancco's project is unique because it operates as a corporation, enabling Clancco to have multiple, diverse, and yet co-existing practices (subsidiaries) across the United States and abroad.
Radio Red ☼ Black Ink
Clancco || 31 October 2008 ||
From yesterday's Minneapolis Star-Tribune:
After 10 years of detective work, the Minneapolis Institute of Arts has concluded that a $2.8 million painting it has owned for decades was stolen by the Nazis. The museum has returned the 1911 painting, Fernand Leger's "Smoke Over Rooftops," to the French heirs of a Jewish art collector who died in 1948.
"Having researched this to the end of the road, we decided we had to return the painting; it was the right thing to do," said Art Institute Director Kaywin Feldman.
---
Clancco || 30 October 2008 || (0)
According to today's NY Times, Italian Prime Minister Silvio Berlusconi says:
he wants to outlaw graffiti, making it a crime to write or draw on city walls and public buildings in Italy without permission. Mr. Berlusconi said on Wednesday that measures to discourage "people who spoil walls and shops" would be introduced by decree at a cabinet meeting on Friday. Penalties could include fines and even prison sentences, the prime minister said. Early this month, Mr. Berlusconi said that he wanted to eliminate graffiti "because in some of our cities, it looks like we're in Africa rather than Europe."
---
Clancco || 28 October 2008 || (0)
The CBC reported today that last Friday French plain-clothes officers removed artist Oleg Kulik's photo works from display at Paris's Grand Palais exhibition hall after a customs official expressed concern that they may run afoul of French obscenity laws. In the photos, Kulik is depicted nude in suggestive poses with a variety of animals.
Officers photographed the artworks as part of a preliminary investigation into whether they constitute illicit pornography and then returned the pieces to the fair. Two Moscow gallery owners, Yelena Selina and Sergei Khripun, were also brought in for questioning and released.
French law bans the publication or exhibition of violent or pornographic images where minors could see them. The Paris prosecutor's office must now decide whether to pursue the investigation.
---
Clancco || 27 October 2008 || (0)
The Westminster City Council has ordered a Banksy mural, entitled One Nation Under CCTV (CCTV is short for closed circuit television), to be removed from a building on Newman Street as a message to graffiti artists that graffiti will not be tolerated. The mural has the words "One Nation Under CCTV" stencilled above two painted people.
The mural is painted on the wall of a building shared by Royal Mail and another business. Of course he is not going to fill in a form and apply for permission. Notoriety is what makes Banksy exist. The council said the artist did not gain the necessary permission and, once it has established who owns the painted wall, the artwork will be removed by the owner.
Mr Davis, who is also chairman of the council's planning sub committee, said: "I take the view that this is graffiti and if you condone this then what is the difference between this and all the other graffiti you see scrawled across the city? "If you condone this then you condone graffiti all over London."
Mr Davis said the building's owner had "every right" to sell or exhibit the Banksy graffiti - as long as it was removed from the wall. "What we are against is people coming around without proper permission or consent and exhibiting their work without permission."
Presumably the mural could be kept if the owner of the wall agrees to it. More from the BBC here.

---
Clancco || 22 October 2008 || (0)
According to Sunday's Los Angeles Times, artist Maya Lujan:
participated in UCLA's 2008 Wight Biennial exhibition, titled "Group Effort: Collaboration as Process and Form," which opened Sept. 25 and closed Oct. 9 at the New Wight Gallery at UCLA's Broad Art Center. Lujan's large scale artwork "White Magic and Xanadu," appeared in the show -- but not the way the artist had in mind.
[A] symbol on the [gallery] wall was installed Sept. 23 along with the sculptural pieces, but was removed before the show opened -- according to the artist, without her permission. "It's just sort of unheard of for them to handle it without the artist's permission," she said.
Although the student curators did not provide Culture Monster with their reasons for taking down the symbol, which Lujan calls a "mandala," Russell Ferguson, chairman of the UCLA art department, confirmed that the decision probably had something to do with the fact that the form resembles a swastika.
If the facts as stated above are correct, and aside from the ethical and professional issues raised, the main issue at hand is what legal recourse(s) Ms. Lujan will have against UCLA, the Museum, and the curators, and whether or not she will opt to enforce her rights. We're doing some research now, but without having waived her Visual Artists Rights Act (VARA), Ms. Lujan may have that recourse as a viable option.
---
Clancco || 21 October 2008 || (0)
Here's a bit of Lessig's op-ed piece in today's NY Times:
Copyright law has become a political weapon because of a statute passed a decade ago: the Digital Millennium Copyright Act. That law tells carriers like YouTube that unless they quickly remove material posted by users that is alleged to infringe copyright, they themselves could be liable for the infringement.
The digital copyright act gives the alleged infringer an opportunity to demand that the content be restored. But in the height of a political campaign, even a few hours of downtime can be the difference between effective and ineffective. The law thus creates a perfect mechanism to censor political speech during the only time it could matter. Recognizing this, campaigns and their allies are beginning to exploit this weapon.
Lessig concludes:
It would be far better if copyright law were narrowed to those contexts in which it serves its essential creative function -- encouraging innovation and ensuring that artists get paid for their work -- and left alone the battles of what criticisms candidates for office, and their supporters, are allowed to make.
---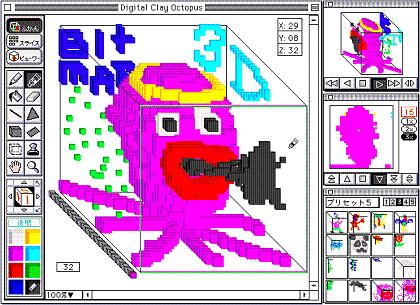 Hideki Nakazawa, Octopus squirting ink, 1996. Software: "Digital Nendo" (Digital Clay): Software designed and directed by Hideki Nakazawa, 1996. © 1996 Ask Co., Ltd.
"Intellectual Property: A Chronology Compendium of Intersections between Contemporary Art and Utility Patents," by Robert Thill, was first published in Leonardo: Journal of the International Society for the Arts, Science and Technology 37, no. 2 (2004), pp. 117-124. An expanded, adapted version of it is published here in serial form with the abstract, introduction, and summary extracted. Starting on March 10, 2008, a different project in the compendium will appear biweekly. Please note that each entry is a unique electronic publication and will not be stored in an online archive after the two-week publication period. Below is the sixteenth entry of this series (published here on October 14, 2008).
Continue reading "Hideki Nakazawa: Art-Related Patent Inventions in the Framework of Identity, with Language as a Dividing Form and Subject Matter as a Connecting Form" »


Notes & Asides
Sonar
Structures in Unbound: Harvard Journal of the Legal Left
Clancco recently published an essay expanding on its ongoing project, Structures. This essay is available via PDF format in the recent issue of Unbound: Harvard Journal of the Legal Left. In Structures, Clancco explores alternative exhibition spaces in which to analyze real and intellectual property laws by finding private and public property locations across the United States—unaffiliated with any art institution—and installs structures on these sites, at times with consent of the landowner, at other times without.
In this essay Clancco also explores the relationship between the readymade, the corporate entity, and so-called outlaw practices, particularly through the historical practices of urban squatters, Native American contestations of land, Rosa Parks, as well as the art historical art practices of Blinky Palermo, Michael Asher, and Gordon Matta-Clark. The provisional conclusion arrived at in this essay is the beginning of an investigation which must analyze the incremental proprietary element in the owning of aesthetic experiences.
Contrabrand: Art, Advertising and Property in the Age of Corporate Identity
A lecture by Sonia K. Katyal, Associate Professor of Law, Fordham Law School

In her talk, based on her forthcoming book from Yale Press, Contrabrand, Katyal will focus on the intersection of art, advertising, and intellectual property within the First Amendment, and to show how the law has shifted in response to accord with the constitutional challenges the branding movement has created. The greatest threat to cultural and artistic freedom, Contrabrand points out, stems not from the pervasive power of the government, but instead from the powerful reach of corporate control over artistic and consumer response. In her talk, Katyal will focus on a particular movement in popular art and culture, what she calls "anti-branding," which she defines to include the expressive activities of artists and activists who direct their energies towards challenging corporate branding. Andy Warhol's Campbell soup can is perhaps an older example of anti-branding; today, other artists like Bettye Saar, Esther Hernandez, and Hank Willis Thomas use brands to comment on the intersection of race, gender, and corporate identification.

Where: Volunteer Lawyers for the Arts, 1 E. 53rd Street, NY, NY 10022
When: Monday, November 24, 2008. 6-8pm (reception at 5:30pm)

For more information and registration information, please click here.


Satellite
Law, Art & Visual Culture
Todays Date: